Quest Status: 691 /1000
TSPDT Rank #569
A man working a well-paying but insignificant sales job at a Houston oil company gets sent to Northern Scotland to buy the land rights for an oil refinery, solely due to his Scottish-sounding name. His ancestors were actually from Hungary, but he goes anyway, with cryptic instructions from his eccentric boss (played by the ever-magnetic Burt Lancaster) to study the stars in search of a comet. In these expository scenes,
Local Hero
feels like a screwball farce - a swipe at the absurdity of the big business world and the disconnect between the people who occupy that world.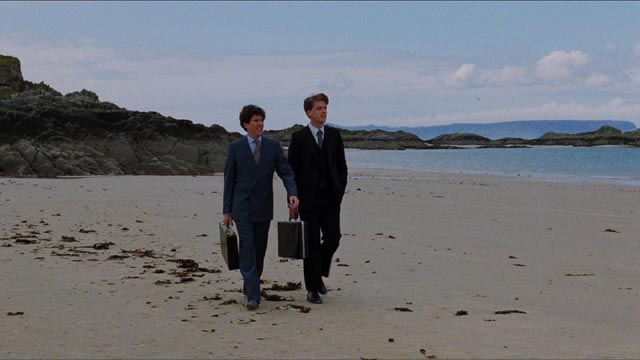 Then our hero, MacIntire (Peter Riegert), goes to Scotland. The pace slows, and the mood becomes much more relaxed. For awhile, I found myself wondering when the plot would start moving along. But it doesn't. Forsyth gives us shot upon shot of beautiful coastal scenery - blue skies, bluer seas, black rocks, green hills, tan sands, and purple sunsets. MacIntire's interactions with the villagers, an insular and guarded lot, are initially awkward in a quietly amusing way. But after, he begins to blend in with them. And in turn, the tone of their interactions change. Soon it becomes clear that what started as a simple business trip has turned into something else entirely. MacIntire has discovered a new way of life.
Local Hero is a film which takes its time and covers a lot of ground. It's a film that starts fast, slows down considerably, and comes back to surprise time and time again - not least with its abrupt and moving conclusion. With the beautiful location cinematography, director Bill Forsyth paid tribute to his native Scotland, and made a masterful study of the difference between American and Scottish attitudes and social behavior. And going one step further, he created a profound meditation on the old adage that "the grass is always greener on the other side" - and the fleeting call of opportunity that may come only once in a lifetime.


--- 309 films remaining ---