Directed by: FRED ZINNEMANN
1966, TSPDT Rank #959
Watching all of the Best Picture Oscar winners was my first goal as a movie fan, even though it's one that I still haven't completed. I only watched about half of the films at that time, and although I have since caught up on most of the ones that I missed since then, there are still a few that have slipped through the cracks
.
This is partly because I've since become very disillusioned with the Oscars since my early days as a film buff. Their focus on glamour, industry self-congratulation and middle-of-the-road films gets harder to swallow with each passing year. Still, maybe in memory of my old goal, I remain interested in each year's Best Picture winner, although I'm usually disappointed or underwhelmed. This year's winner,
Green Book
, doesn't seem likely to break that tradition, so I decided to take a look back at a Best Picture winner from over 50 years ago that I still hadn't seen.
The film, although just over 50 years old, is set about 500 years ago, during the time of Henry VIII, Anne Boleyn, and Sir Thomas More. Thomas More will be known to history students as Henry VIII's one-time friend and chancellor, who became accused of treason when he refused to endorse Henry's divorce and subsequent marriage to Anne Boleyn - along with Henry's simultaneous break with the Catholic Church and establishment of himself as the head of the Church of England. And
A Man For All Seasons
is just right for those of us who can't remember very far beyond that synopsis. It positions Thomas More as a lone hero up against the odds, just like Gary Cooper in director Fred Zinnemann's earlier film
High Noon
- not to mention exactly the type of character that the Oscars love. Furthermore, in keeping with his recognition as a saint in more recent years, it does so without touching upon any of his flaws, including his reportedly vile treatment of heretics.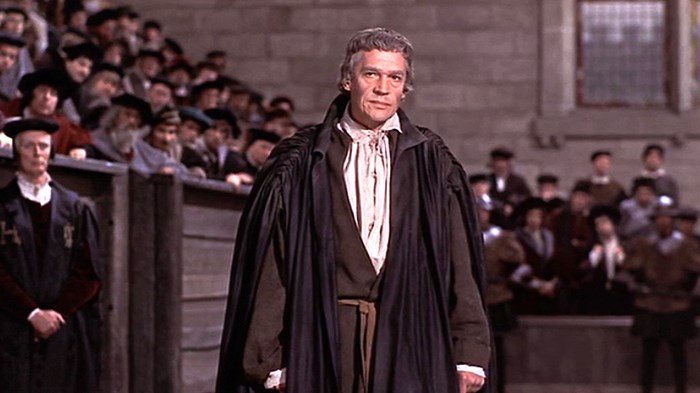 But while it might be historically dubious,
A Man For All Seasons
still paints an entertaining outline of its characters, based on a contemporary play by Robert Bolt (with Paul Scofield reprising his starring role as More from the stage). Zinnemann crafted a riveting story from the play, although not a particularly distinguished one visually, except in its outdoor scenes. In its indoor scenes, the film always seems to evoke a theatrical set more than a historical setting. But above all,
A Man For All Seasons
is a straightforward film meant to showcase its source material and its performances. Besides Socfield, Robert Shaw shines as a rowdy reimagining of the infamous Henry VIII, Orson Welles looks fittingly near death as the dying Cardinal Woolsey, John Hurt makes one of his first screen appearances as the rat Richard Rich, and Vanessa Redgrave even makes a brief appearance as Anne Boleyn. As for the themes of heresy, dissent, and the tendency of medieval institutions to confuse the two, a later film featuring Vanessa Redgrave, Ken Russell's
The Devils
provides a much more interesting and uncomfortable take - although you'd never find that film on an Oscar ballet!